The 5G era is coming,
these fields should be focused on
From the opening of the Boao Forum for Asia in April 2018 to the Central Economic Work Conference at the end of the year, 5G was no surprise to be the annual keyword in the economic field. As a new generation of mobile communications technology, 5G has at least 10 times the peak rate of 4G, millisecond transmission delay and goal connectivity. Under its construction, digital economy covering both online and offline, consumption and production, platforms and ecology will gain greater driving force. Especially the electronic manufacturing industry, which is regarded as the "hard core" of the national economy, is in the critical period of transformation and upgrading, therefore it needs the support of new technology represented by 5G, in order to obtain a new round of growth cycle and momentum, and bring tremendous changes to the mode of production and development.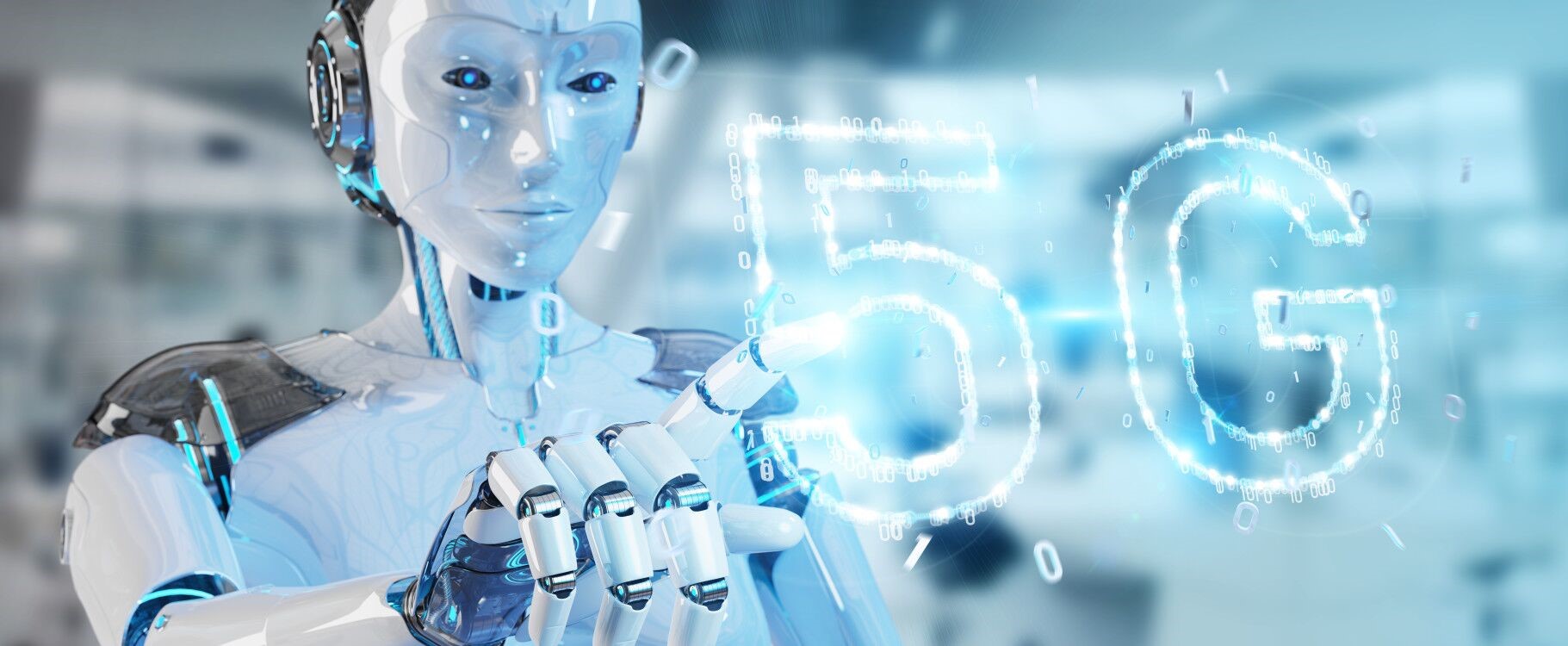 5G plays its trump card, New Direction of Electronic Manufacturing is coming
Compared with traditional communication technologies, 5G has stronger performance, more scenarios and new ecology. It can well meet the application requirements of wireless network in the transformation of traditional manufacturing enterprises' intelligent manufacturing, and promote the wide penetration of information technology, manufacturing technology, new material technology and new energy technology into various fields of electronic manufacturing, thus triggering major technological changes in the industry. For example, with the support of 5G network with faster speed, lower delay, larger capacity and higher reliability, the frontier applications such as millimeter wave, large-scale MIMO and adaptive beamforming in the field of electronic testing and measurement are expected to become reality, which will undoubtedly require greatly improving the accuracy and efficiency of electronic testing and measurement.                  
In the fields of automobiles, mobile phones, household appliances, wearables, industrial equipment, engineering equipment etc., 5G technology application is more comprehensive and in-depth coverage. In the core industry chains, such as communication chips, communication modules, antennas, radio frequency, supported by 5G technology, 5G technology will bring new vitality to these industrial manufacturing fields. For example, in the PCB industry, benefiting from the increase in demand for high-frequency and high-speed materials by 5G technology, PCB is about to usher in a good situation of rising volume and price. 5G base stations and 5G mobile phones, including the application of automotive electronics, will bring more carriers and more frequency bands. Technology such as higher frequency band, so that the research and development of communication components between the RF front-end antenna and the baseband chip will develop rapidly; and the manufacturing of electronic components supported by 5G can make the production process more precise, diverse, low-cost, smart wearable, industrial manufacturing Other industries will usher in major benefits. It can be seen that 5G is making use of its incomparable advantages to enable the electronic manufacturing industry to work continuously and smoothly in various scenarios, which will help the electronic manufacturing industry to improve labor conditions, reduce manual interference in production lines and greatly improve the controllability of production process.                  
Intelligent manufacturing is ready for development   5G Supporting Industry Drives to Fast Lane
In addition to playing a prominent role in the electronics manufacturing industry, 5G can also fully meet the needs of equipment interconnection and remote interactive applications in the industrial environment. Intelligent manufacturing fields such as Internet of Things, Industrial Automation Control, Cloud Robot and so on will open a new era of extensive interconnection and deep human-computer interaction in advance with the support of 5G technology.
As a key supporting technology for connecting people, machines and equipment, the Internet of Things (IOT) has a complementary relationship with 5G technology. The application of IOT relies on 5G to provide different scenarios of wireless connection. The maturity of 5G technology standards also needs the stimulation and promotion of the Internet of Things.                  Automation control is the most basic application in intelligent manufacturing plant. Its core system needs high precision, low delay and high reliability of system communication. Only 5G makes it possible for closed-loop control applications to connect through wireless network.                  
Surprisingly, version 2.0 of the "Smart DreamWorks" production line, which will be launched at the NEPCON China Exhibition on April 24-26, is the ideal production mode to fully demonstrate the dynamic production process of the interconnected production line equipment. Complete the customized electronic product assembly order from the spot real-time order, component assembly, shell assembly, automated testing of the complete electronic product production process.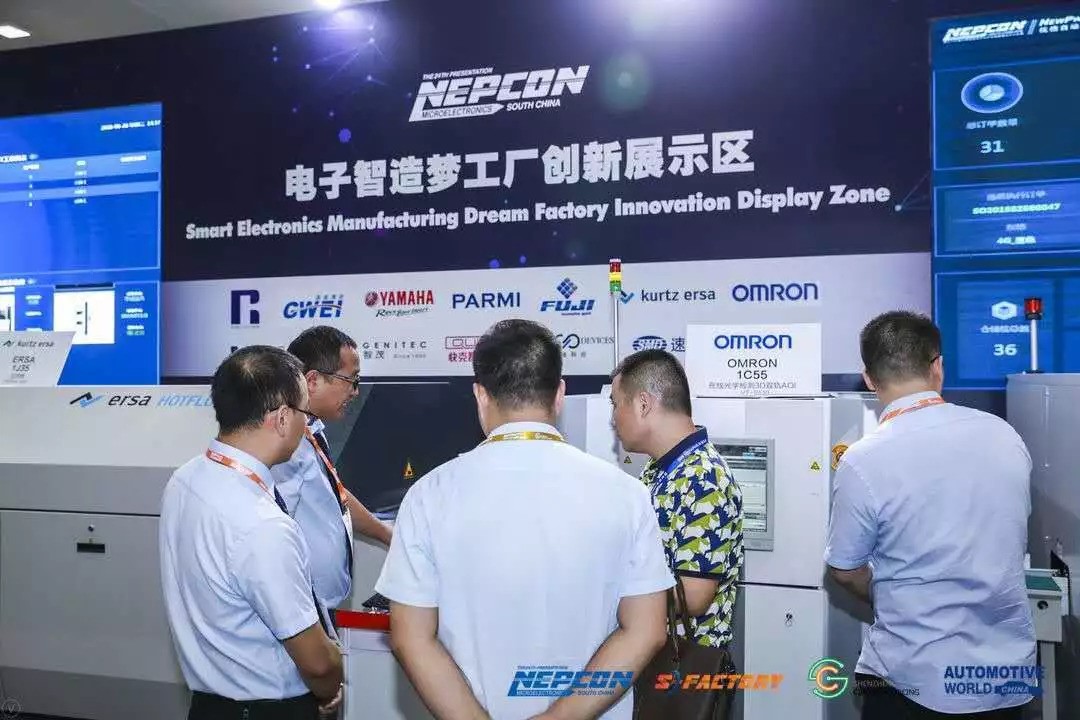 In terms of logistics, from warehouse management to logistics distribution, they all need wide coverage, deep coverage, low power consumption, large connections, low-cost connection technology and network coverage, and 5G networks can meet such requirements. In intelligent manufacturing production scenarios, robots are often required to organize and collaborate to meet flexible production, and this brings the demand of robots to cloudization. 5G technology moves a large number of computing and data storage functions to the cloud, which can greatly reduce the hardware cost and power consumption of the robot, and deeply meet the needs of flexible manufacturing.
It is certain that the future 5G technology will become the key to support the transformation of intelligent manufacturing. It can not only connect the widely distributed and scattered people, machines and equipment in multiple scenarios, and build a unified internet, but also support the whole mobile Internet application with real-time and high reliability. It can help manufacturing enterprises get rid of the chaotic state of wireless network technology in the past. This will have a positive significance for promoting the implementation of industrial Internet and deepening the transformation of intelligent manufacturing.
Professional Exhibition Leads the Trend of Industry   
High-end Forum Serves Professional Buyers
Nowadays, with the introduction of intelligent manufacturing scenarios, the demand for wireless communication networks in electronic manufacturing industry becomes more and more urgent. 5G network can provide diversified and high-quality communication guarantees for highly modular and flexible production systems. Its development prospects have attracted great attention of the whole electronic manufacturing industry. As a high-quality platform for insight into the development trend of electronic manufacturing industry and exploration of industry frontier development model,NEPCON China 2019(29th China International Electronics Manufacturing Equipment and Microelectronics Industry Exhibition)Adhering to the concept of "Connecting New Ecology and Intelligently Creating New Forces", The focus will be on 5G and its closely related automotive electronics, consumer electronics, security, medical, rail transit, new energy, automation and other hot industries.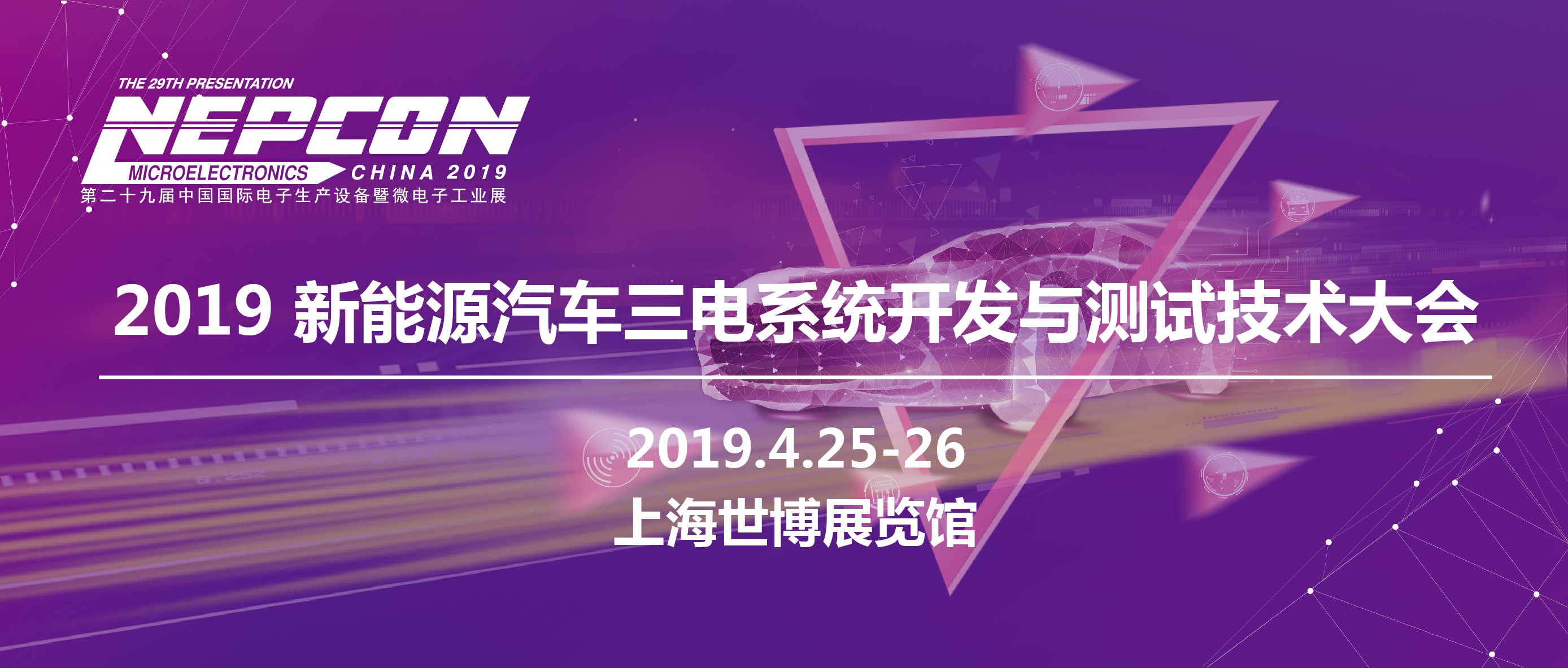 For the new energy automotive industry,The "2019 Conference on Development and Testing Technology of New Energy Vehicle Three Electric Systems" which will be held on April 25-26 by NEPCON CHINA 2019,Full attention will be paid to the development and industrialization of vehicle control system for new energy vehicles, which is a common industry challenge facing the new energy vehicle industry at present, and will certainly arouse great attention in the industry. The organizers will invite major host factories, three-power development and testing technology and management personnel, testing institutions, government, scientific research institutions, enterprise market leaders, etc. to participate in the forum, focusing on "battery system development" and "test and drive system development and testing" two major sections to launch a heated discussion. At that time, there will be hundreds of new energy vehicle enterprises, testing institutions/enterprises, upstream and downstream enterprises related to the three-power system to participate in the forum.
This exhibition not only covers advanced equipment and technical solutions in SMT surface mounting, electronic materials, electronic micro-assembly and SiP Process Innovation Exhibition area, test and measurement, welding and dispensing, but also focuses on machine vision, Internet of Things and big data, industrial software, industrial robots, etc. because of the hot 5G technology. Integration, intelligent warehousing and logistics and other advanced technology and equipment of intelligent manufacturing industry chain. The exhibition is dedicated to building a high-quality one-stop procurement platform for the industry by bringing together a comprehensive and rich brand of electronic manufacturing, enabling the entire electronic manufacturing industry chain.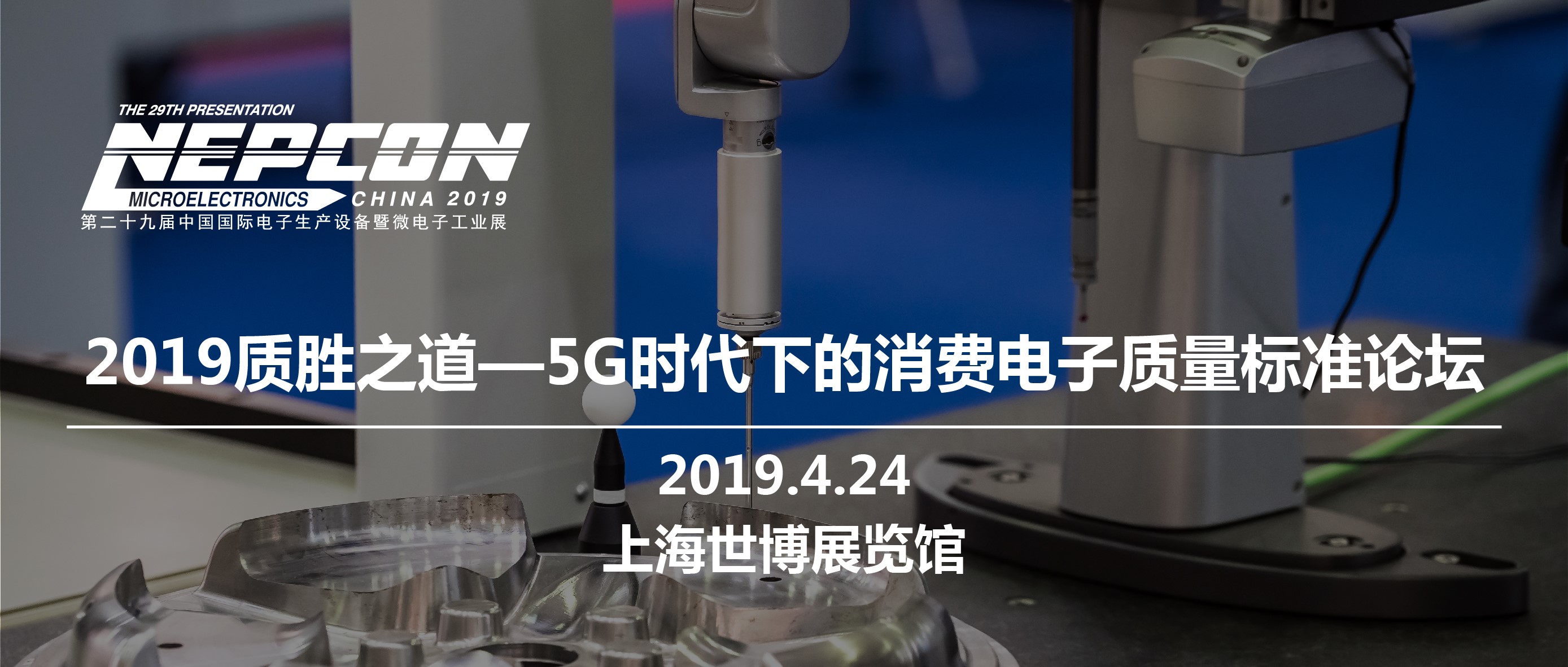 During NEPCON China 2019, there is also a high-end forum closely related to 5G technology that can not be missed. "The Way to Quality Victory: Consumer Electronics Quality Standards Forum in 5G Era" will be held on April 4th。Starting from the current hot topics in the industry, the forum deeply interprets the contents of personal information security, network risk of smart home and the pursuit of healthy light by smart home appliances under the background of "5G", and explores the solutions of product innovation and technology application in enterprises. A number of experts and scholars from TÜV Rheinland and industry executives will speak on the spot, express their insights and communicate with the professional audience on the spot.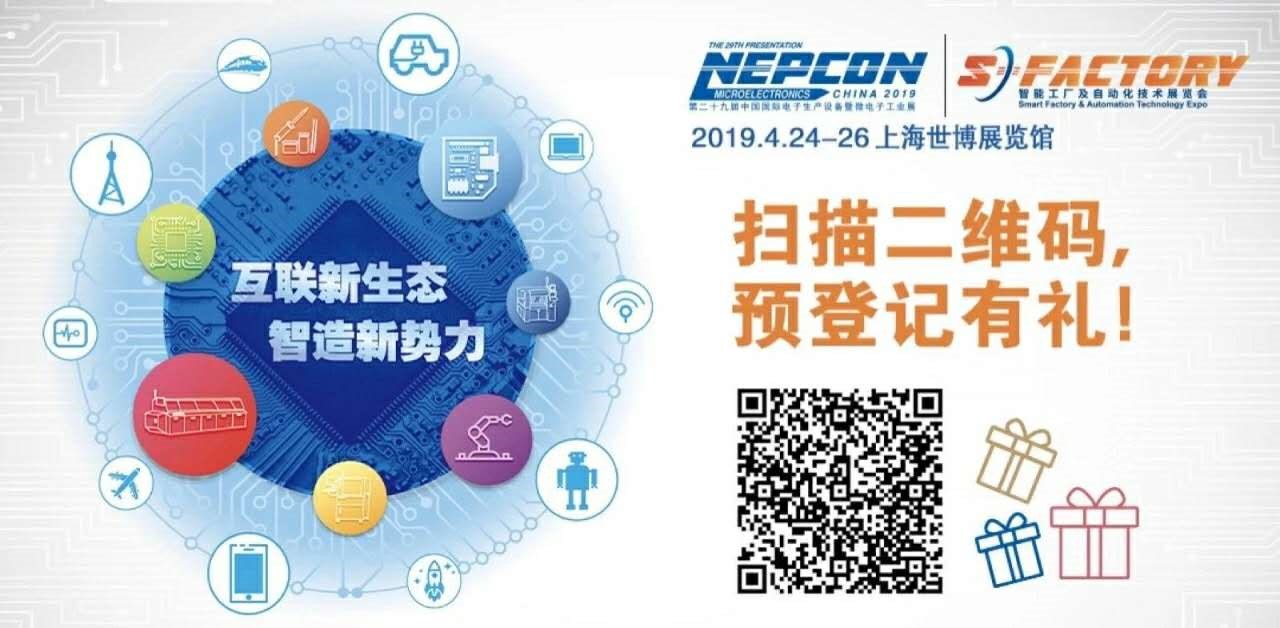 In the 5G era, the electronic manufacturing industry will move to the fast lane of development. NEPCON China 2019, sponsored by 5G, will also open at the Shanghai World Expo Exhibition and Convention Center from April 24 to 26. After one year's hard work, NEPCON China 2019 will focus on gathering new equipment, new technology, new materials and new solutions to show the hot application of the frontier for colleagues in the industry. The exhibition will surely attract more professional buyers in electronic manufacturing and intelligent manufacturing industries.
NEPCON China 2019 Audience pre-registration:
https://www.nepconchina.com/Audience/cgydj/
Visiting Hotline:
Domestic audience:86-10-5763-1818 or 400-650 5611;
Overseas audience:86-21-2231-7073
Follow the Official WeChat Service account:NEPCON_CHINA;
For more information, please visit: www.nepconchina.com