In recent years, safe, intelligent and entertaining travel mode is becoming the just need of more and more people, which has led to the rapid development of automotive electronics in the automotive industry. As a very forward-looking sunrise industry, automotive electronics has basically realized the transformation from mechanization to Mechatronics driven by electronic information technology. With the continuous improvement of public demand for comfort and safety of automobiles, automotive electronics manufacturers are accelerating the pace of transformation and upgrading, and striving to promote industrial development with a higher level of manufacturing technology.
NEPCON China (China International Electronics Manufacturing Equipment and Microelectronics Industry Exhibition) as a high-end communication platform, has long been concerned about the growth of automotive electronics industry. In view of the current vigorous development momentum of automotive electronics, this year's NEPCON China invited many automotive electronics manufacturing related exhibitors to fully layout the automotive electronics industry chain and promote the industry to upgrade to intelligent diversification, thereby leading the industry to the forefront of development.
Intelligence Leads the Trend of Automotive Electronics Manufacturing Technology Upgrading in an All-round Way
Plate splitting machine: Xiongke SCHUNK (booth number: 1F08)
Because of the involvement of mobile Internet technology and electronic technology, the intelligent level of automotive electronics manufacturing is getting higher and higher. Many industrial robots, automatic assembly and handling technologies have gradually penetrated into the automotive field. As a global professional supplier of grasping system and gripping technology, Xiongke can provide 11,000 standard parts and 2,500 standard manipulators. Its service target industry is very wide, including all well-known automobile manufacturers and parts suppliers.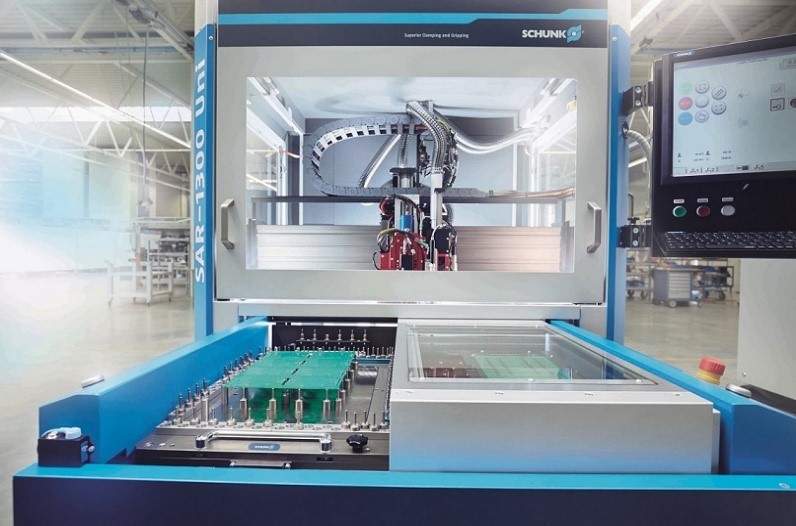 General-purpose splitter
This time, Xiongke will exhibit a general-purpose splitter SAR-1300-Uni with modular design, which can be equipped with milling cutters and saw blades and converted from a single station to a dual-station system with a uniaxial speed of up to 2,000 mm/s. Xiongke's concept of "intelligent grabbing" has been fully applied in this sub-board machine, which has a very cost-effective performance.
SMT: FUJI (booth number: 1G60)
The rise of new energy vehicles and smart cars is closely related to the innovation of automotive electronic sensing technology and AI technology. The increasingly complex automotive electronics manufacturing technology needs more powerful manufacturing technology to support. As an excellent enterprise in the field of SMT, FUJI is doing its utmost to support the automotive electronics industry, relying on the technology and solving ability accumulated by many years of intensive cultivation in manufacturing industry.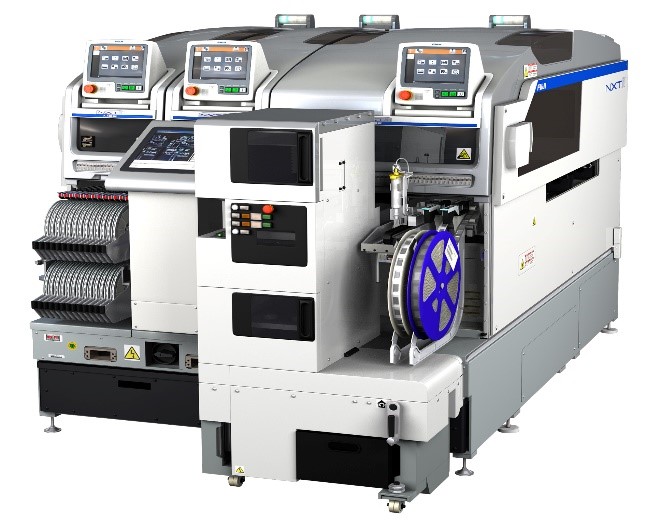 NXT III Modular High Speed Multifunctional Mounter
NXT III, a modular high-speed multi-functional SMT machine, was introduced by FUJI. It can assemble units freely according to the user's production form. It can flexibly handle large special-shaped components from chip components to 1.5 inches and mixed mounting with inserting components. It is compact and lightweight, but with the mounting speed of the industry's leading technology level, NXT III simplifies the scope of operation activities and is more convenient to import operation automation and intelligent factories.
Reflow soldering: Reed Thermodynamics (booth number: 1D55)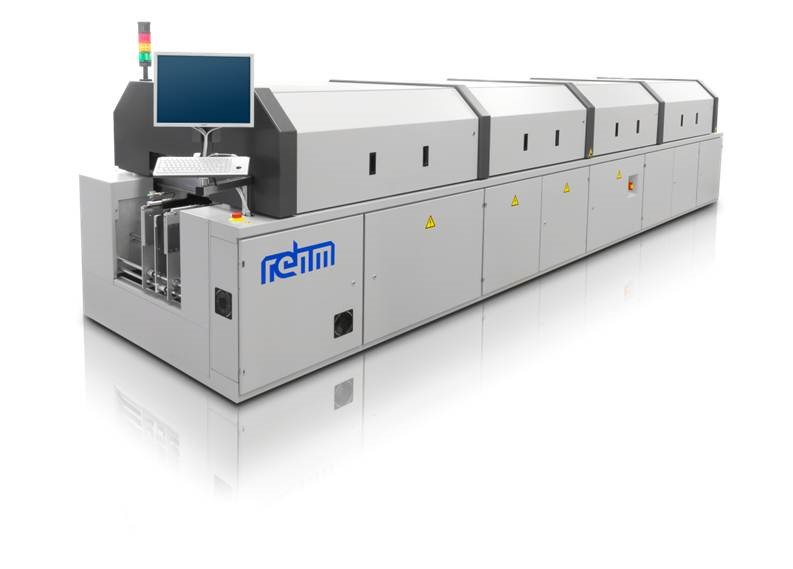 VisionXP+Vac Vac Vacuum Reflow Welding System
In order to meet the increasing reliability and safety requirements in the extremely harsh automotive environment, the global thermal equipment supplier Reid Thermal has launched a new VisionXP+Vac vacuum reflow welding system, which adopts the concept of energy-saving and environmental protection in line with the current trend and combines high-quality sustainable production with the needs of modern manufacturing industry. It is an energy-efficient and energy-saving assistant. Its new product VisionXP+Vac uses two-in-one reflow welding system, covering with vacuum/non-vacuum two welding modes, which can flexibly match the different production needs of users.
 Laser processing: Ted laser (booth number: 2R28)
The laser processing industry, represented by laser cutting and laser welding, has become an important technical means to realize the lightweight of automobiles with its unique advantages. Shenzhen Tede Laser is a Sino-foreign joint venture that integrates R&D, production and sales of industrial laser equipment in China. The company not only has its own independent technology and product R&D center, but also cooperates closely with relevant institutes to undertake 863 major national research projects, providing professional industrial laser solutions for domestic and foreign users.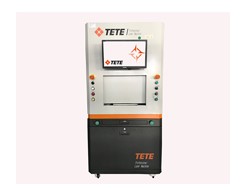 Plastic Laser Welding Machine
Tede Laser has many products. Taking plastic laser welding machine as its representative, Ted Laser has a series of industry advantages, such as no consumables, low energy consumption, high stability, excellent spot, etc. It has achieved leapfrogging progress in the solidity, seamlessness, precision and cleanliness of the connection, and will become an important forming mode of automotive electronics in the future.
Focusing on Intelligent Detection and Enabling Automotive Electronics Industry
AOI: Saikai Intelligence (booth number: 1J30)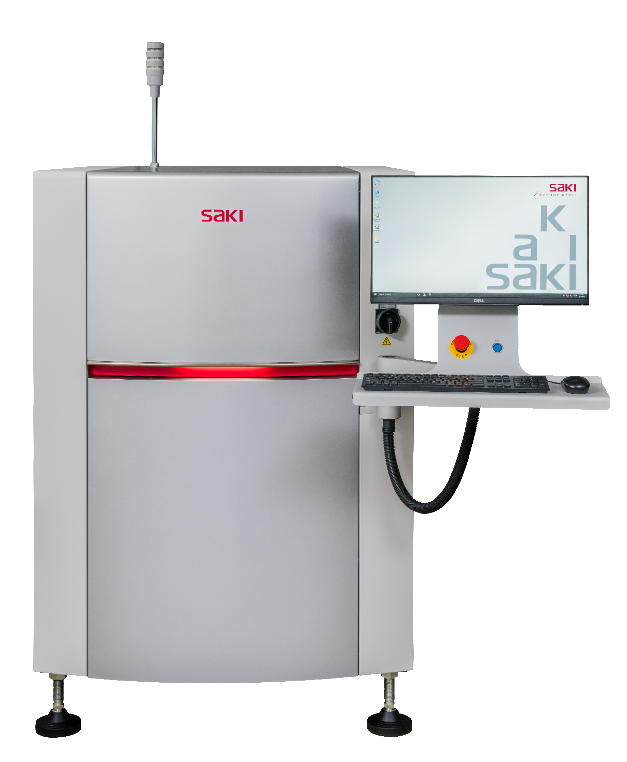 3D-SPI,3D-AOI
The main driving forces for the growth of the automatic optical inspection industry in China are the miniaturization of PCB, the increasing demand for consumer electronic products and the popularity of electronic products in the automotive field. Especially in the automotive market, due to the growing demand for high-performance electronic components for important safety system applications, more attention is paid to the precise detection of products. Set up in 1994, Saikai Intelligence adopts Robot Vision technology in the field of automatic appearance detection device for electronic parts assembly process. It integrates software and hardware systems and application design perfectly. It can control multiple BF2-Monitor RMS remotely with one PC, and also can view MPV of inspection results of each process in real time, so that the company's product technology can keep pace with others. The frontier of the world.
X-Ray: Omron (booth number: 1J45)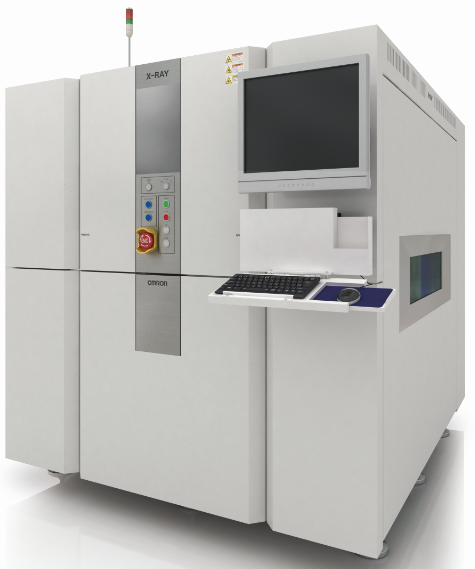 High-speed CT X-ray automatic inspection device VT-X750
In the evolution of automobile to advanced assistant driving and automatic driving, the automatic/assistant driving function of the machine must rely on a large number of sensors to complete environmental perception, calculation and analysis of a series of control tasks. Automotive sensors belong to the high-end field of automotive electronics, which requires high safety and stability. Omron, as a world-renowned manufacturer of automation control and electronic components, has mastered the core sensing and control technology in the world. Its products involve a wide range of fields such as industrial automation control systems, electronic components, automotive electronics, etc. There are hundreds of thousands of varieties.
Among them Omron AXI! VT-X750 can realize on-line full inspection. It is a high-quality product that combines all the sensing and control advantages. It has comprehensive innovation in four fields: production, detection, safety and ease of use.
ICT: Germany Science and Technology (booth number: 1H31)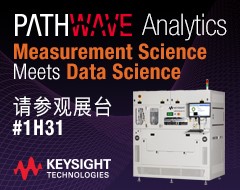 Keysight Flexi-Core i1000D Automatic Online Parallel Test System
With the development of automobile industry, automotive electronic products testing and certification have been paid more attention. Deutsche Technologies is committed to helping businesses, service providers and government customers accelerate innovation and create a secure and interconnected world. From design simulation, prototype validation, production testing to network and cloud environment optimization, Deutsche Technologies provides a comprehensive test and analysis solution. Among them, Keysight Flexi-Core i1000D automatic online parallel testing system (U9405B) with compact shape and low cost has smaller production line space and easier installation and use compared with similar products. It can automatically test smartphones, LED and automotive circuit boards with large gap between components.
SPI: Koh Young (booth number: 1H20)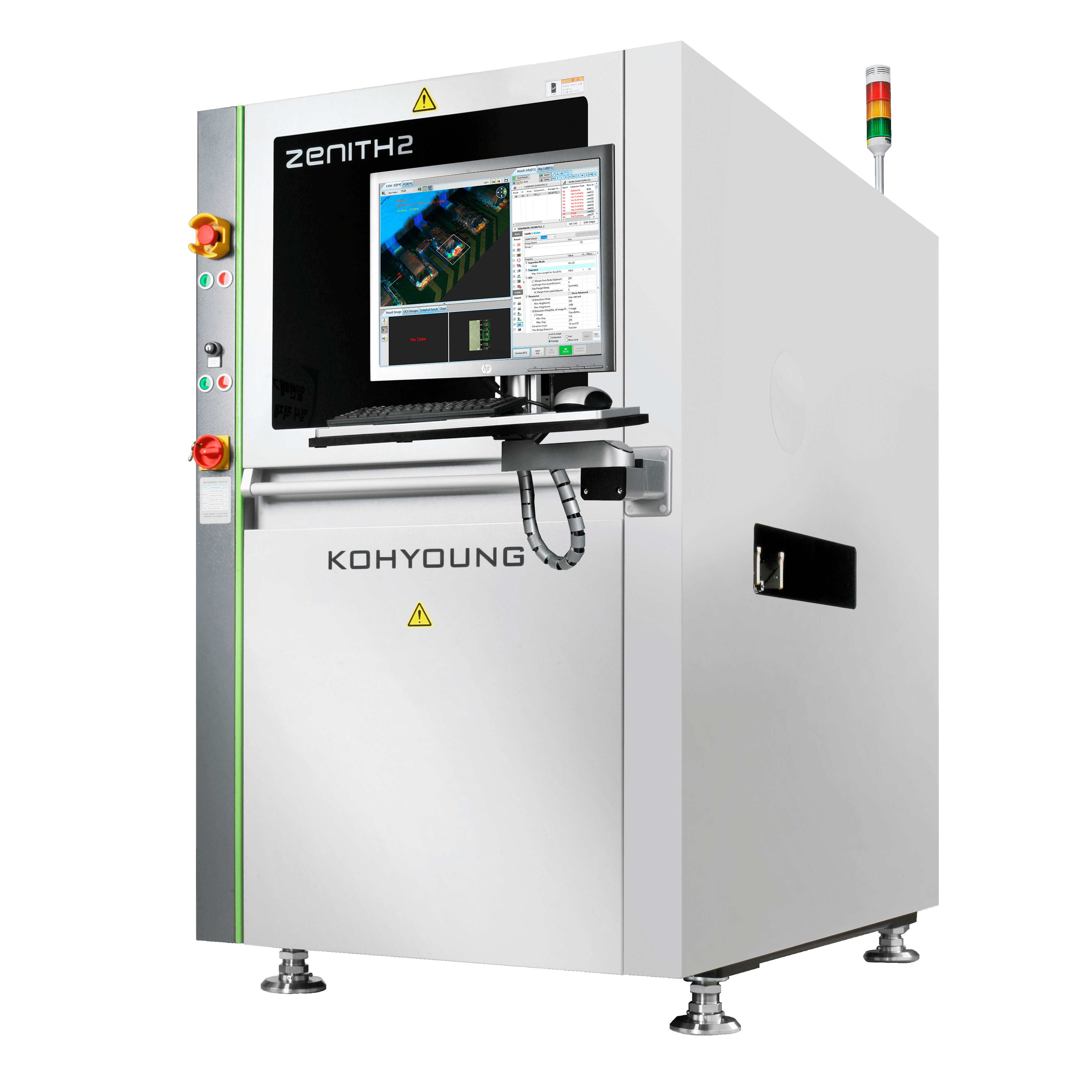 Zenith 2
With the rapid development of automotive electronics, more and more functions are carried by the industry, and products tend to be integrated and miniaturized. Faced with a large number of automotive parts which integrate automotive engineering technology and electrical engineering technology, it is necessary to improve the rate of good products through professional testing, thereby improving the quality of the vehicle and driving experience. Koh Young is a 3-D measurement equipment and solutions provider, which can provide quality control and process optimization for many production areas, including the automotive electronic equipment industry. Koh Young launched the new Zenith 2, which provides an innovative testing equipment based on 3D testing technology and user center.
Benchuang Technology (booth number: 1J10)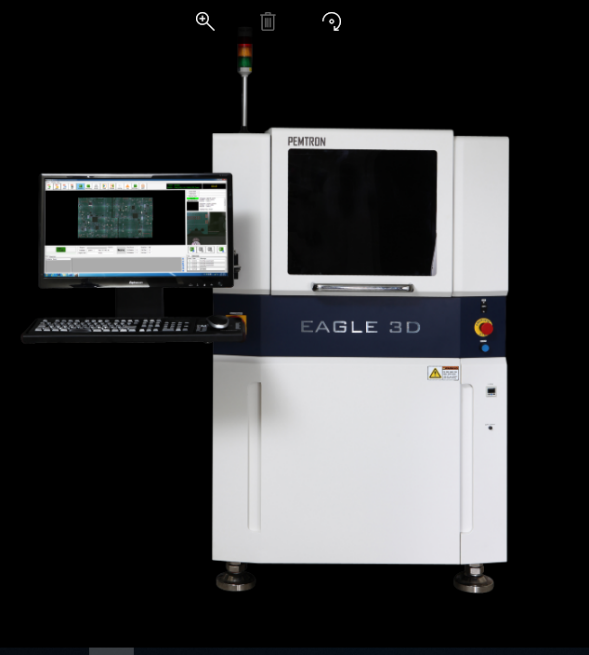 3D Automatic Optical Tester EAGLE 3D 8800
Founded in 2002, Benchuang develops SPI and AOI testing equipment in SMT, semiconductor and other cutting-edge industries on the basis of micron and nano three-dimensional precision testing core technology. The three-dimensional online solder paste tester TROI-7700 and the three-dimensional automatic optical tester EAGLE 3D 8800 recently launched by Benxi Innovation, combined with strong research and development capabilities and unique image processing technology, help automotive electronics manufacturers make progress every day and improve their market competitiveness increasingly.
Terida (booth number: 1H10)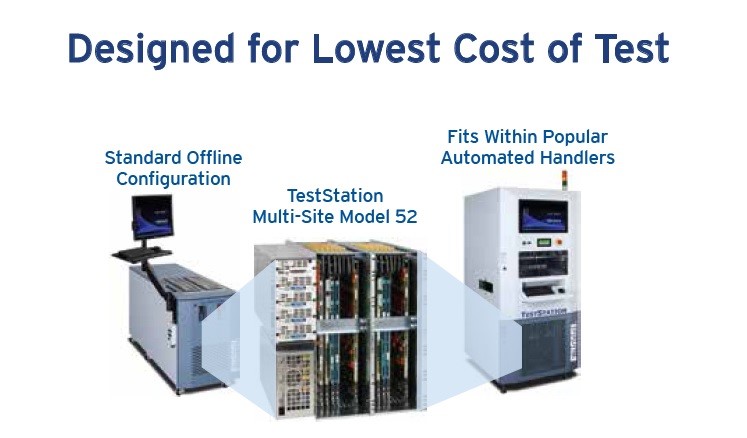 TESTSTATION MULTIPLE ON-LINE TEST SYSTEM
Terida is also a world-renowned supplier of printed circuit board (PCB) production and testing solutions. At present, NEPCON's main products in China are TESTSTATION series products which are suitable for PCB system and automation production. Terida TESTSTATION series provides a wide range of online and functional testing options for PCBA production in the industrial scope. This NEPCON Terida will show: TESTSTATION multiple on-line test system, which has 2 to 4 times test capability as compared with traditional test system; TESTSTATION online automated test system with real non-contact and high-speed on-line test capability; Untra Pin II 128 HD channel card with double test capability of TESTSTATION test system test points, and 4096 test points. TESTSTATION LH online test system.
Detroit Science and Technology (booth number: 1H42)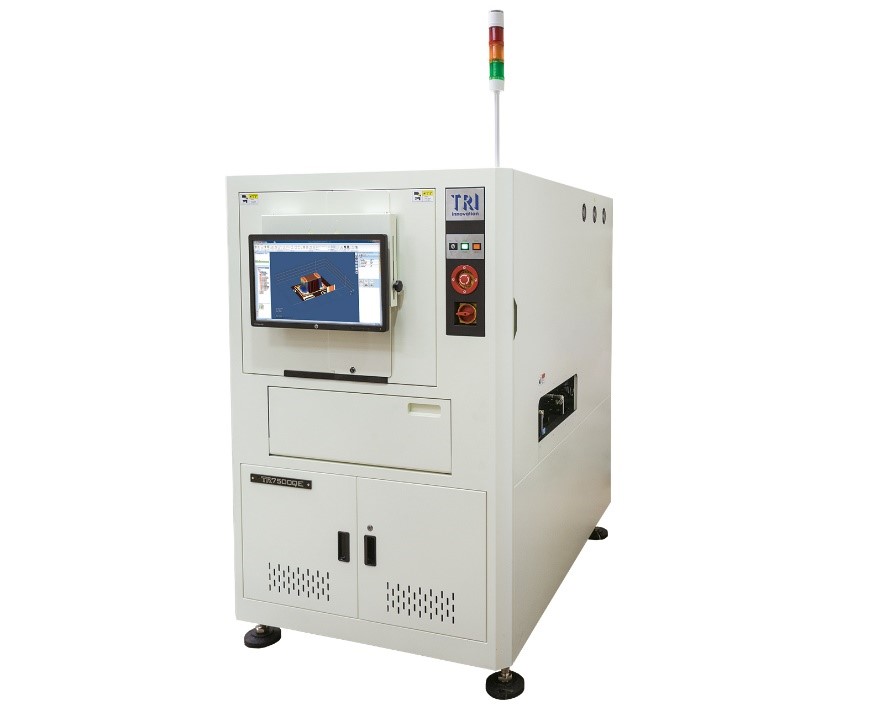 TR7500QE
TRI is committed to providing a complete one-stop automatic detection scheme and integrated software (YMS 4.0), which can support industry 4.0 and make a great contribution to the automotive electronics industry. TRI provides high-precision and high-resolution detection solutions, including 3D solder paste detector (3D SPI), 3D automatic optical detector (3D AOI), 3D automatic X-ray detector (3D AXI), manufacturing defect analyzer (MDA), assembly circuit board tester (ICT), assembly circuit board function tester (FCT). The new TR7500QE AOI combines the new generation multi-angle 2D and 3D technologies based on four-way adjustable digital streak projection and four low-angle cameras, providing superior 3D component assembly and detection functions.
Professional Exhibition Fully Help Automotive Electronic Thermal Burst
Nowadays, automotive electronics has become the basic configuration of automobiles. With the development of automotive intellectualization and networked vehicle, automotive electronics value is increasing every year. It is estimated that the automotive electronics market will be close to 350 billion US dollars by 2022. As a professional exhibition of SMT and intelligent factory and automation technology, NEPCON China will provide innovative solutions and one-stop procurement services from automotive electronics, consumer electronics, security, medical and other fields. Platform. At that time, professional audiences, including automotive electronics, can participate in technical forums held at the same time and face to face with industry technicians, gain insight into industry trends and experience online and offline business matching services, and exchange technical solutions with excellent exhibitors to achieve the ultimate purchasing purpose.
NEPCON China 2019 Electronic Carnival will be held in Shanghai World Expo Exhibition Hall from April 24 to 26. It is a highly integrated exchange feast for all electronics manufacturers. It provides an infinite imaginative space for the audience to communicate and trade. At present, the exhibition has entered the countdown and opened up a comprehensive pre-registration channel for the audience. The organizers warmly look forward to all electronic manufacturing industry audiences, including automotive electronics, rushing to the official website of the exhibition for pre-registration, pre-customizing the exclusive tickets for the exhibition, learning more about the automotive electronics industry, and a glimpse of the forefront of the development of the automotive electronics industry.
Source: NEPCON Electronics Expo
NEPCON China 2019 Audience Pre-registration Way:
Https://www.nepconchina.com/Audience/cgydj/
Visit Hotline:
Domestic audience: 86-10-5763-1818 or 400-650 5611; foreign audience: 86-21-2231-7073
Pay attention to the official Wechat service number: NEPCON_CHINA;
For more information, please visit  www.nepconchina.com.