With the advent of the era of intelligent manufacturing, the global manufacturing industry is ushering in a new round of industrial change. As a big manufacturing country in the world, China's automobile, household appliances, rail transit, equipment manufacturing and other industries actively conform to the trend of intelligent development, carry out automation and intelligent transformation of enterprise production and assembly lines, and accelerate the construction of intelligent factories. Relevant data show that by 2017, the market size of China's smart manufacturing industry has grown to 1.5 trillion yuan, of which the sales revenue of smart factories alone has reached 88.8 billion yuan. According to preliminary estimates, the market size of China's smart manufacturing industry has reached 1.6 trillion yuan in 2018, and it is expected to exceed 1.9 trillion yuan in 2019. By the end of 2022, 21% of the domestic manufacturing enterprises will be transformed into smart factories. Obviously, the domestic manufacturing industry in transition and upgrading is leading a new round of industrial competition focus, with unlimited potential!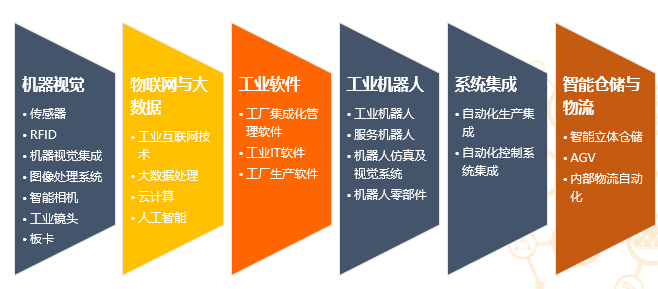 In order to meet the needs of automation and digitization of key processes in traditional electronic manufacturing industry, China Smart Factory and Automation Technology Exhibition (S-FACTORY EXPO) will be held in Shanghai World Expo Hall from April 24 to 26 at the same time as NEPCON China 2019. This exhibition is devoted to focusing on the development frontier and trend of intelligent manufacturing industry, and actively exploring the application and achievements of intelligent factory construction at home and abroad. The two exhibitions are expected to attract nearly 500 well-known brands from home and abroad. They are aimed at displaying products and solutions in machine vision, Internet of Things and big data, industrial software, industrial robots, system integration, intelligent warehousing and logistics.
Intelligent Manufacturing Strength Exhibitor Airborne Continues to Show "Killer's mace"
With years of intensive cultivation of NEPCON series exhibitions in the field of electronic manufacturing automation, S-FACTORY EXPO has been upgraded by innovation of electronic manufacturing automation exhibition area. High-quality potential buyers and supporting enterprise resources are becoming the new energy of electronic intelligent manufacturing industry in 2019. In this exhibition, all innovative products and technologies covering intelligent manufacturing, smart factories and automation technology are presented. System integration, an important component of intelligent manufacturing, is becoming one of the core technologies of the new round of scientific and technological revolution. The S-Factory EXPO exhibition is supported by Youpei, Sumeida, Hongshida, Dongmei Science and Technology, think tank information and Hechun Automation. This time, Hongshida's APS-900B high-speed on-line mounting system, E-drawer intelligent access data terminal of Dongmei Science and Technology, and Hechun's automated on-line dust collector (gamma-S330IN-LINE-UCSL/UCSR), off-line distributor (gamma-330W), optical discharge on-line detection machine (AOI-1000) and other exhibits are dedicated to using more innovative and efficient technology to upgrade and process quality. The optimization of process and the intelligent scheduling and management of production will help more enterprises to build a truly intelligent factory.
Machine vision is regarded as the "eye of intelligent manufacturing" in the industry. It realizes the intellectualization and precision of product detection by relying on the reliability or automation degree that cannot be achieved by manual work. It is widely used in the field of electronic manufacturing. Leaded by Omron, machine vision exhibitors including Keynes, Huaxian Optics, VS TECHNOLOGY, Visual Pupil Science and Technology will participate in this S-FACTORY EXPO exhibition. Among them, Omron's high-speed CT X-ray automatic inspection device VT-X750, relying on excellent production, detection, safety and ease of use, realizes the innovation of ROI, and manufactures high-speed automatic inspection in the industry.
With the deepening of the concept of "industrial 4.0", the software industry is also rising gradually, and has increasingly become the main position of the transformation of intelligent manufacturing. S-FACTORY EXPO 2019 Industrial Software Exhibitors have Pangu Technology, Wangyou Information, Moore Technology, Mingdao Electronics, Kaiming Intelligence and other powerful enterprises. At that time, Wangyou Information will show SMT Expert smart SMT patch programming, while Moore Technology will focus on developing Moore Cloud Platform, which represents the frontier of the industry's software technology to support and define the rules of the smart factory, build a data flow system, is the brain of the smart manufacturing industry.
As an important part of intelligent factory, the field of intelligent warehousing and logistics has gathered strength exhibitors such as Dongmei Technology, Kaiming Intelligence, Think Tank Information, Zhejin Technology and Blue Core Technology. Among them, E-drawer Intelligent Access Data Terminal of Dongmei Technology, cloud warehouse of Zhejin Technology, intelligent handling robot of Blue Core Technology and high-precision 3D vision sensor are all the frontiers in the field of warehousing and logistics. The display of these devices will greatly promote the rapid flow of materials required for production among various processes, support the efficient operation of large-scale, customized and flexible production, and make logistics equipment, information technology and production process, manufacturing technology and equipment more closely integrated.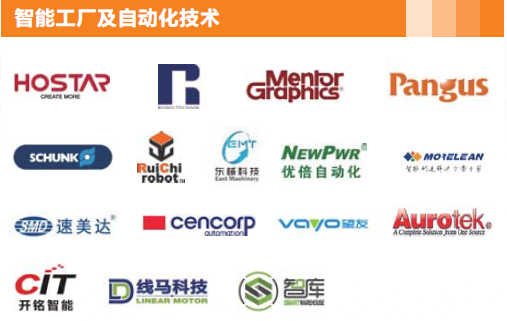 It can be predicted that many powerful exhibitors in the smart manufacturing industry will carry new products to airdrop in an all-round way, which will surely provide automotive electronics, mobile phones, computers and computer peripherals, household appliances, wireless communication equipment and systems, aerospace and military electronics, automation and industrial control electronics, audio-visual and digital electronics, smart home and wearable products, medical electronics and equipment, new energy, security electronics. Service-oriented robots and UAVs, instrumentation, new energy, financial electronics and other industries bring more cutting-edge and high-end technology applications, but also make S-FACTORY EXPO a real one-stop business procurement platform!
Digital twin technology marches into exhibition VR and zero distance experience dream factory
Smart factory represents a highly interconnected and intelligent digital era. Its realization depends on the coordination and mutual promotion of five key areas: interconnection, digitalization, big data, intelligent equipment and intelligent supply chain. Therefore, how to achieve lean production, flexible manufacturing and other issues are still the focus of attention in the industry. For this reason, the new S-FACTORY EXPO will not only display diversified exhibits, but also hold a number of highlights activities at the same time, inviting exhibitors and professional audiences to experience the whole process, so as to deeply participate in all aspects of intelligent manufacturing, and comprehensively improve the production efficiency of electronic manufacturers.
Last year, S-FACTORY EXPO, a widely acclaimed "Electronic Smart Dream Factory", will launch an upgraded version of 2.0 in 2019. The whole production line aims to create an ideal production mode of customized orders and single-piece production, and provide new ideas for more colleagues in the electronic manufacturing industry. At that time, audiences will not only be able to watch the dynamic production process of equipment interconnection and real cooperation in person, but also have a comprehensive grasp of the production process of electronic products, such as real-time orders, component mounting, shell assembly and automated testing. They will also have the opportunity to watch transparent factories through video, experience job training in VR, and use innovative interactive forms such as APP, who is the team leader, to see transparent factories. Understanding the production execution process of manufacturing enterprises and restoring the development ideas of real teams. This will undoubtedly increase the audience's enthusiasm for participation and promote more orders!
Talk about the example of digital factory transformation for you at the summit forum of big Cafe gathering
The new S-FACTORY EXPO will continue to practice the combination of convention and exhibition. Through inviting industry experts, scholars, media partners and excellent enterprises, it has prepared many summit forums for participants and made every effort to promote the technological upgrading of intelligent manufacturing industry and the healthy development of industry chain.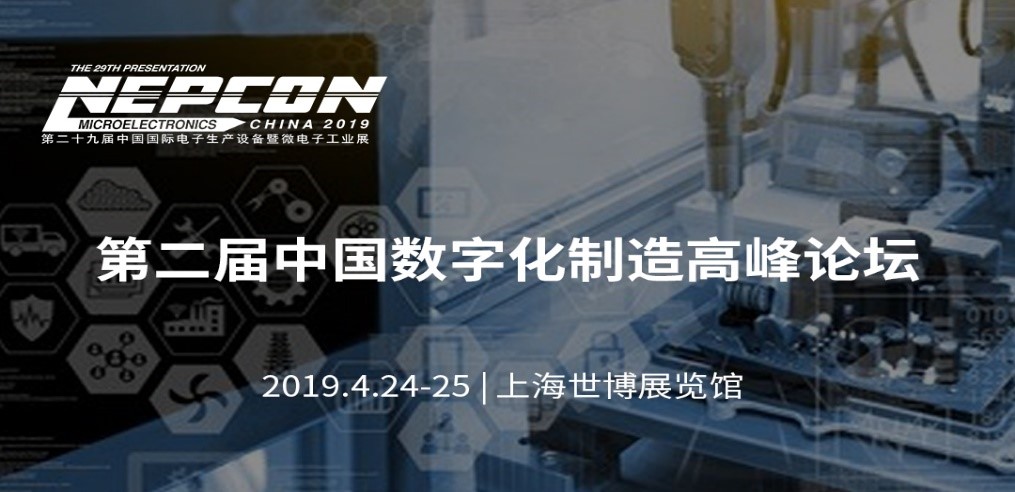 The 2nd China Digital Manufacturing Summit Forum will be held from April 24 to 25. We invite enterprises from Lenovo, Microsoft, Huaweiyun, Aliyun, Siemens and Phoenix to come and share. Attendees will learn about successful digital factory transformation cases in the industry, the trend of industrial Internet of Things under the 5G wave, new applications of artificial intelligence and sensors in visual inspection, and new schemes of MES and ERP. Lenovo will give a keynote speech on "Information Physics System Helps Digital Factory Transition". Huawei Cloud will focus on Intelligent Manufacturing cloud sharing. In addition, the industry leaders such as Microsoft and Siemens will also speak on the spot to explore innovative solutions and examples for smart factories in areas of common concern, providing new ideas for electronic manufacturing enterprises.
Smart Factory Leads Industry in the Future, China and Germany Share the Frontier Proposition of Electronic Manufacturing Together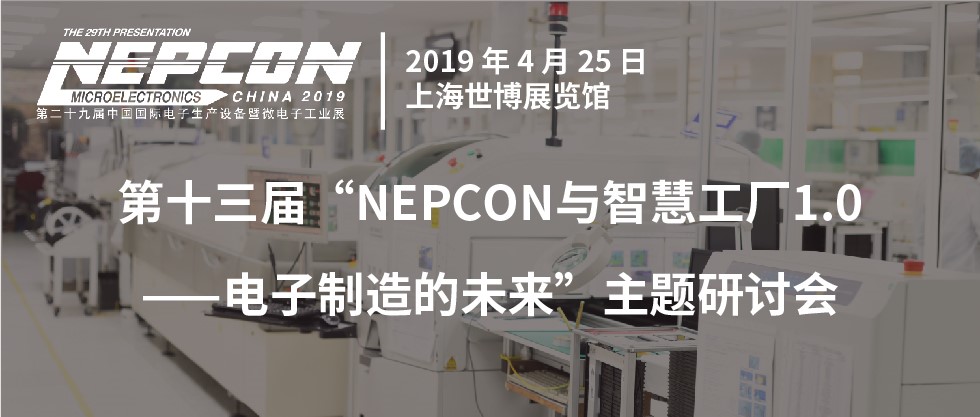 Another thirteenth "NEPCON and Smart Factory 1.0-the Future of Electronic Manufacturing" symposium, which attracted much attention from the industry, drew new ideas from the past and organized three thematic conferences, namely, "Integral Planning and Implementation Case of Electronic Manufacturing Smart Factory", "Data and Data Analysis Creating Value for Electronic Manufacturing Enterprises", "Collaborative Robot Innovation and Application in Electronic Manufacturing Industry". Combining with the actual needs of the transformation and upgrading of the electronic manufacturing industry, aiming at solving the specific problems of the electronic manufacturing enterprises moving towards the smart factory, starting with the evaluation of the capability of the smart factory, this paper focuses on sharing the overall planning stage, tasks, key supporting products and technologies of the smart factory of the electronic manufacturing industry, as well as the actual cases of the transformation and upgrading of the electronic manufacturing industry, starting from the landing, frontier and focus. The angle is to answer questions for enterprises in the electronic manufacturing industry.
With the promotion and commercialization of 5G technology in the future, the transformation and upgrading of Chinese manufacturing industry to intelligent manufacturing will continue to accelerate under the support of 5G technology scenario, and intelligent factory will soon become the standard of Chinese manufacturing. S-FACTORY Intelligent Factory and Automation Technology Exhibition will continue to strive to create a display + demonstration line + Forum form, which will bring more cutting-edge information and technology solutions to the industry, and help the electronic manufacturing industry to open a new automation model.
From April 24 to 26, S-FACTORY EXPO will join hands with NEPCON China to create a three-day grand ceremony of electronic manufacturing automation industry. At present, the pre-registration of free exhibition visits has entered the countdown, electronic people must not miss, let's work together to carry out the intelligent manufacturing to the end!
Source: NEPCON Electronics expo
NEPCON China 2019 Audience Pre-registration Way:
Https://www.nepconchina.com/Audience/cgydj/
Visit Hotline:
Domestic audience: 86-10-5763-1818 or 400-650 5611; foreign audience: 86-21-2231-7073
Pay attention to the official Wechat service number: NEPCON_CHINA;
For more information, please visit  www.nepconchina.com.